The Illustrious Page of Non-Knowledge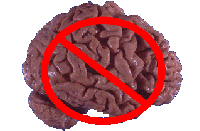 The first in a continuing series of pointless pages, this page contains a compendium of anti-facts -- useless bits of misinformation which are guaranteed NOT TO SERVE ANY USEFUL PURPOSE WHATSOEVER!
Anti-Facts
Eggs are actually small rocks.
The Walrus may have been Paul, but Ringo was really a chicken sandwich with fries.
If you sit in the tub long enough, your butt will dissolve.
Bacon is a thing to fear, when it's made of mud. (Courtesy of Beej)
What happens to your nose when your face is already spiteful?
The Stones are really the Beatles in drag.
In a pinch, you can use your refrigerator as a toaster, but the toast won't be very good.
A non-potato might be an alligator. Both are good with butter.
A fridge is not a jar; a jar can be fatal.
Broccoli is actually made in a chemical factory in Sudbury, Ontario.
If it burns when you pee, make sure to bring a fire extinguisher.
Shapes are amorphous.
The best thing about outer space is that there's no wind.
If lungfish could fly, think of the devastation.
Worf is an Autumn. (This was Paul's (MJF))
Is roast vomit served with red wine?
Musically speaking, Wagner's greatest contribution is a knockwurst sandwich. (combs@netradio.net)
If you turn your underwear inside out, you can wear them for another seven days.
Cultural Milestones, once quarried in the south of France, are now made of space age polymers. (Lance@tartan.sapc.edu)
JFK wasn't killed by Oswald or the Mafia or the Russians. He was killed by a team a crack troops sent here from the Dog Star, Sirius. NOT ONLY THAT, but the upper echelons of the Pentagon knew about the planned assasination, and approved of it whole-heartedly! As if that wasn't enough, swallowing watermelon seeds will cause a patch of the melons to grow in your stomach. (The Right Reverend Saint Chango (toliverp@pacificu.edu))
That which does not kill you, makes you wish it had.
Water floats.
If flying fish had lungs, think of the devastation.
Farting loudly in a moving elevator is foul on so many levels.
Despite what mathematicians tell us, there are no numbers larger than 1239823649283629392873928462398. After that, you get a few stray 2's, a 3, a 5, and then nothing.
Rocks tend to be rounder on even days of the year. (moran@netnet.net)
Pickles are actually grown in lakes and harvested twice a month not unlike caviar, but not really like it, either. (A Walnut from Outerrrrrr Spaaaaaaace)
It is becoming apparent that information is required to make decisions. (MJF)
Saving pus in a mason jar on a shelf by your front door, while being an admirable goal, will not only attract flies, but can also be taxed in some states. (Tristan the Frog )
The power of GOOD is stronger than the power of GODS. (jfkassad@mnl.sequel.net)
The plural form of moose is actually meese. (Kazman au457@colchester.nscc.ns.ca)
1) The question is not who is Roy Rogers, but who ARE Roy Rogers.
2) God is love, Love is blind, Ray Charles is blind, therefore Ray Charles is God.
3) There are only five people in the world and two of them are hamburgers.
4) I thank, therefore you're welcome.
(wade@pacificnet.net)
Weltner's Axiom: People like what they know, and want what they like.
First Corollary to Weltner's Axiom: People are most productive in the environment they know best. (jerrywe@trisource.com)
Opinions are, indeed like assholes; some are just bigger than others. (Dave Newman DavidN1961@aol.com)
In twenty years time, my toe knuckles will be so hairy I won't be able to lift my feet.
Remember, no matter where you go...there you are! (Doug Foss afoss@gate.net)
1) The bitterling, a type of carp, owns 30% of GE stock.
2) Camels do not store water in their humps. Instead, they use their needle-sharp tendrils to siphon water out of their unsuspecting riders.
3) Babies are born with over 600 bones, but by adulthood they have fused into 2 large bones, Left and Right.
4) Cows have the capability to produce two kinds of milk - the nutritious white fluid containing healthy amounts of calcium, and an even tastier concoction that contains a deadly neurotoxin. Farmers say that most milk is of the former kind.
5) The existence of Denver, Colorado, is merely an myth perpetrated by the Colorado Board of Commerce. It is designed to lure unsuspecting tourists to their doom at the hands of the savage, man-eating Colorado Board of Agriculture.
(Young Dave the Pubescent, sticherd@global2000.net)
I may be gullible, but at least I have this magic rock! (Max Cates (cates@biochem.purdue.edu)
The internet is all done with smoke and mirrors. (no way!)
Trees, when approached in a docile manner, will instinctively grasp for your nether regions, thinking you are searching for some sort of sexual gratification. Hence the slang term "woody". Really. (Heavy Metal Superman)
Your feet can't breathe in leather socks. (Sean T. Vermette (dstanger@common.net))
You should listen to Manowar's "Gloves Of Metal". (Sean T. Vermette (dstanger@common.net))
One day in Kindergarten, my teacher asked me, "What's your favorite T.V. show?". "Cartoons.", I replied. "Which one?" "CARTOONS!" (Angie Clark ($CLARKAN@BrandonU.ca)
The Meaning Of Life is--Crunchy Peanut Butter (Larry King)
I saw a kid on a leash. He bent over and licked the curb. (The Well Preserved 52 Year Old (dstanger@common.net))
Most public figures are really mechanical constructs, like small battlemechs that look really human, being driven by teams of rabid chipmunks. The chipmunks are trained at Quantico in a special school, costing taxpayers billions of dollars every year. This is why television is so endlessly fascinating. (John of Goshen (johnml@goshen.edu))
IS THIS GLASS HALF FULL OR AM I HALF DRUNK? (DRUNK@BAR.COM)
My dad's bigger than your dad. (Ryan D. Walberg <$walberrd@brandonu.ca>)
Large dogs make their own gravy. Small dogs are made into gravy. (bennett@hpel.cees.edu (Eric Bennett))
Analysis is electrolysis for the anus. (1 out of 5 doctors)
Prime numbers are divisible by zero; that's why they're the best numbers. There is actually a cure for the summertime blues, but it doesn't work very well. If you don't build it, the silly bastards will come anyway, and just stand there. (Psycho Ward......Ward@stnx.com)
A comparison of human population growth rates and mime population growth rates indicates that within twenty years the world will be overun by mimes and humans will be their slaves, toiling twenty five hours a day making stripy shirts and berets. (samoa@dot.net.au)
How warm does blue smell? (Ramone Acideater (sdobbs@noproblem.com))
1. The Truth is always the truth unless the grand truth is proven untrue.
2. Sex is not the answer. Sex is the question. Yes is the answer.
(Cool Hand- coolhnd13@aol.com,xyzasdfblah blah blah(cont.))
Puddy, when applied to a burn, makes a tasty bandage. (Kookamonga@simplexgroup.com)
Reality is a little green thing in a box. When you open the box, it squawks at you until you close it again. (Pandit Kalidasa the Incorrigible, etc.)
I own a 1979 Fiat 850 Spyder. A while back, the generator went out. I also lost a couple of bolts. The bolts I replaced with some cheap Japanese parts and the generator with a German remanufactured part. Since then, the bloody car has developed a severe case of meglomania and insists I support it in it's bit to rule the world and eliminate Yugos from the face of the earth. What Next? ((The DOCTOR) mikem@MCI2000.com)
Berkeley is noted for the invention of two items: LSD and UNIX. This is not a coincidence. (All's.quiet@western.front)
It is always possible to push a cow. Yet, no matter how hard you try, you can never pull one. (Earle (p5ypher@geocities.com))
Electricity is merely heat speeded up. (Earle (p5ypher@geocities.com))
My Bologna has a first name, it's BOB. (THE big HELVE)
SPAM (and its brother KLIK) is actually a nice, juicy T-Bone steak, which is converted into fatty pork bricks upon contact with the air. So the obvious thing to do is microwave it while it's still in the can.

OK, are you still there? Good. That should remove some of the gullible idiots. (I'm Watching You Right Now.)
I feel more like I do now than I did when I got here. (߅´Ž´ŸŸŨŽ´ƒĨ¨–ŨĨ¨–ŦŠæŦ¨øš—ŸĒļē­–šŠŦŠš™šŠŨ´Ŧ™ŦšæŠ)
Of all the people in the world, you're one of em'. (J.E.R.K. xavier@execpc.com)
If you press all of the black keys on a piano simultaneously, it will definitly explode. (Odorf)
According to a woman I heard talking yesterday, CoffeeMate can be used to make wonderful cream soups.
Why does it take 3 pancakes to shingle a doghouse? Because a car can't pull a boat down the road sideways in 2nd gear with the windshield wipers running, and telephone poles don't have feet! (BW ericg@gwi.net)
There are never any pictures of leather socks when you need them!!!!!!! (Derekw@interlog.com)
You can fit a jar of bees into really big floppy shoes (Floppyshoes@yahoo.com)
Mice are smarter than humans, in spite of their small brain size. They are obviously smart enough to forgo the advanced technology that bedevils the humans. (ericg@talentsoft.com)
That strange knocking sound coming from your right rear wheel? You can safely ignore it (EricPoad@csrlink.net)
you can lead a horse to water but you cannot make him wear swimtrunks. (cac@hopper.unh.edu)
Would you rather Peanut Butter, or ride the bus? (Some.One.at.some.where.net)
If you drive fast enuff, you might hit someone, leaving them unable to look after them self (mupp)
Why? Because I said so, damn it. Now go to your room. (chicky@efortress.com)
What if the Hokey Pokey is what it's all about? (senator@armchair.mb.ca)
You can't teach an old dog new tricks. Especially sky diving (Naeblis)
The Giant Hogweed actually exists. WE'RE DOOMED! (The Well Preserved Fifty-two Year Old)
You can pick your friends and you can pick your nose, but you can't flick your friends out the window. (kg Dawg at: y2000bug@USA.net)
I could be here or I could be there, unless I'm not at either place. (ultima97@aol.com)
You might call it laziness, I call it efficiency. And take that sock out of your mouth. (me)
I hate you because the B-52's made "Rock Lobster" (college student extraordinaire)
Getting hit in the head with that hammer didn't work as well as I had planned... (fleh-dih-hoo)
1. Nobody's a virgin...life screws us all.
2. When asked a/s/l in a chat room, I find it humorus to reply with a casual "old enough to know better, still too young to care/yah, last night/dreamland" aproach.
3. When the world gets you down, look up and curse. (Tryxie458@aol.com)
SuPeR-cAlA-fRaGiLiStIc-ExPiAlIdOtIoUs...blah, blah, blah...I feel all "entellijant" now... (shair and mary poppinz)
I doubt, therefor I might be! (HankV ( hankv@westman.wave.ca ))
Never pick up a hitchhiking spleen, you don't know where it's been. Of course, if you're driving a pickup truck it can always ride in the back. (another satisfied Windoze user)
there are 3 types of people: those who can count, and those who just sit on the couch all day waiting for Ed McMan to call and tell them that they won 11 million dollars. But then since they are of the second type of people, they tell him that they arent interested. (shair--Tryxie458@aol.com)
When the human body is immersed in warm water, the telphone will ring. All inanimate objects can move just enough to get in your way. (Bob at : meras_ca@yahoo.com)
In god we'd rust (jfka@godisdead.com)
Collect empty Cornflakes packets in a spare bedroom or attic space. Count them after five years, then divide the total by 260. This will give you a rough idea of how many packets you get through in a week. (P. Snodgrass. Burton-on-Trent)
Always buy Cornflakes packets in twos so that you can use one to top up the other if the contents have settled during transit. (A. Sheepdip. Carlisle, U.K.)
Stack empty Cornflake packets along hallways and at the foot of staiers to reduce the risk of injury in the event of a fall. (Mrs. E. Twat Bristol, England)
Is god good or is good god? (jfka@godisdead.com)
---
Your Turn!
This is an interactive thing. Ain't the Web fun? You know, most of the Internet is connected together with stretched-out clothes hangers and piano wire. Really.
This is you:
"Oooh! It's incredible! These pithy counter-wisdoms have changed my life! Now I see the un-ness that surrounds me, and I am filled with Non-Knowledge!"
This is me:
"Hey! You can contribute some of the Non-Knowledge that fills you! Then you'll have a little less of that ugly, bloated, full feeling! Yeah! You can add your own gems of counter-wisdom to the collective pool of Non-Knowledge! Just follow this here link (which has a REALLY NIFTY PICTURE so it's worth seeing JUST FOR THAT) and our lovely and talented guides will show you the way!"
---
This is YET ANOTHER bloody worthless page brought to you by The Society for the Advancement of Non-Knowledge, courtesy of Armchair Airlines Computer Services Inc. Copyright © 1995. All Rights Reserved. Yadda, yadda, yadda; blah, blah, blah.